As another holiday season — at least, according to retailers — kicks into full gear, it's actually beginning to look a lot LESS like Christmas. At least, if you're picking up your traditional holiday eggnog latte at Starbucks, that is. And the move has Christians and others declaring the coffee giant a big fat scrooge — and worse, accusing the chain of 'Christian Cleansing.'
Via Breitbart:
Starbucks faces criticism from politicians and campaign groups today after it decided to remove all references to the festive season from its Christmas red cups, as revealed earlier on Breitbart London.
The coffee chain revealed this year's version of its "red cups" this week – an annual tradition where it changes the colour of its cups from white to red around Christmas time, usually with a festive design.
This year, however, the chain has decided to remove all festive imagery from its cups and instead have a plain red cup.
Oh hello, #RedCups Welcome back. pic.twitter.com/eHfllRdLDt

— Starbucks UK (@StarbucksUK) November 3, 2015
Starbucks explained the design in a statement, saying: "Starbucks has become a place of sanctuary during the holidays. We're embracing the simplicity and the quietness of it. It's [a] more open way to usher in the holiday."
Hmm, is the 'simplicity and quietness' of the season the reason you're still capitalizing on the biggest money-making holiday of the year by launching it before most Halloween decorations are even down — and a full three weeks before Thanksgiving?
Not surprisingly, many people aren't too happy about the eradication of Christmas trappings from the now-traditional red cups — and they're not buying Starbucks' talking points.
Tory MP David Burrowes told Breitbart London: "The Starbucks coffee cup change smells more of political correctness than a consumer-led change. Indeed.
His concerns were echoed by Christian groups who branded them "scrooges" and accused them of trying to hide the religious message behind Christmas.
Simon Calvert of the Christian Institute told Breitbart London: "What is it about Christmas that Starbucks are afraid of celebrating? Haven't they heard it's the most wonderful time of the year, and the season of good will to ALL men? They should get involved and stop being scrooges."
And more have piled in, with Andrea Williams of Christian Concern saying: "This is a denial of historical reality and the great Christian heritage behind the American Dream that has so benefitted Starbucks.
Breitbart even calls out the more sinister undercurrent in the move as "emblematic of the Christian culture cleansing of the West," a trend we discuss frequently here. See for yourself the evolution of the cups, courtesy of Breitbart:
Have a look at what Starbucks Red Cups over the years looked like: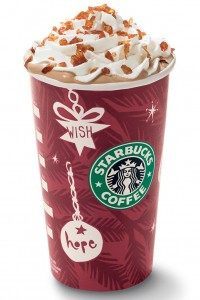 To the right is the 2009 offering. You can see distinct elements of Christmas, even if that means Christmas in a modern sense.
They lean heavily on stars (you know, like in the Nativity Story) and the background resembles the branches of a Christmas tree. All in all, a pretty good and acceptable design for something that self-defines as a Christmas-orientated product.
But 2009 was a long time ago, and since then the company has slowly, but definitely, moved away from Christmas, and Christian iconography.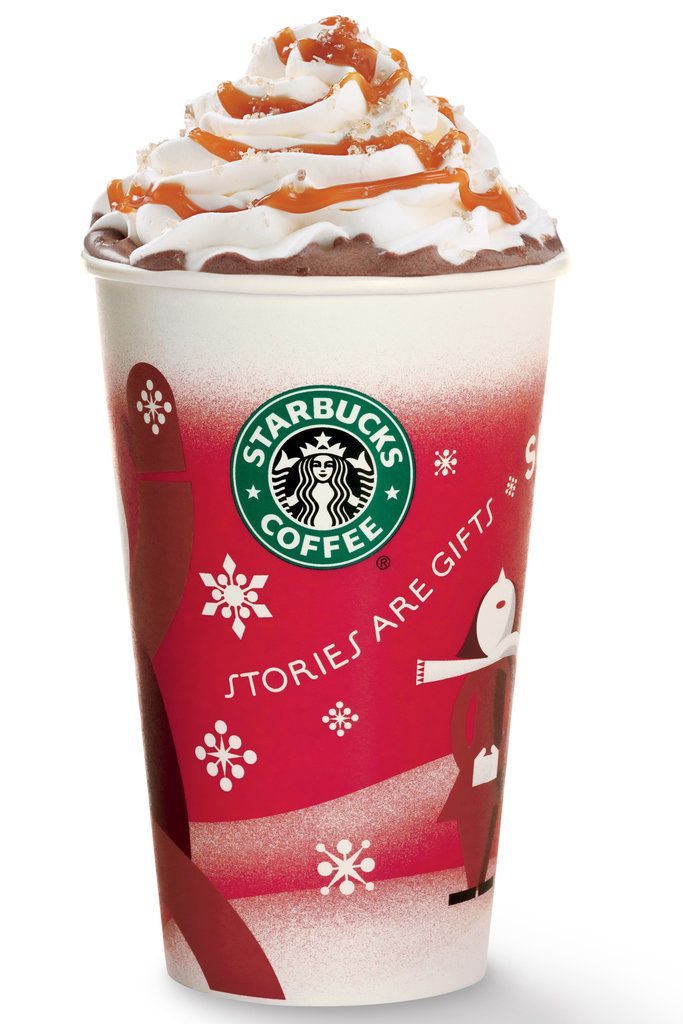 To the left here, you'll see the 2010 offering. Snowy, seasonal, at least it resembles something mildly festive and Western.
The same applies to the 2011 red cups, which have a dog sledging down a hill on the back of a snowman, snowflakes falling around them. It's cute, really.
They stuck with snowmen for 2012, with a big one winking at you with a star in the background that year, and a sort of upmarket stars and baubles motif on their 2013 cups.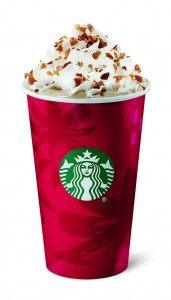 And then it all went south. Or east, maybe.
2014's cups looked like a child scrawled on them with a marker pen. And not in a cute way. It was a distinct shift away from looking "Christmassy" (see right) before the monstrosity they've released this year (below).
And behold, Starbucks did conceive and bear a red cup, and called his name blasphemy: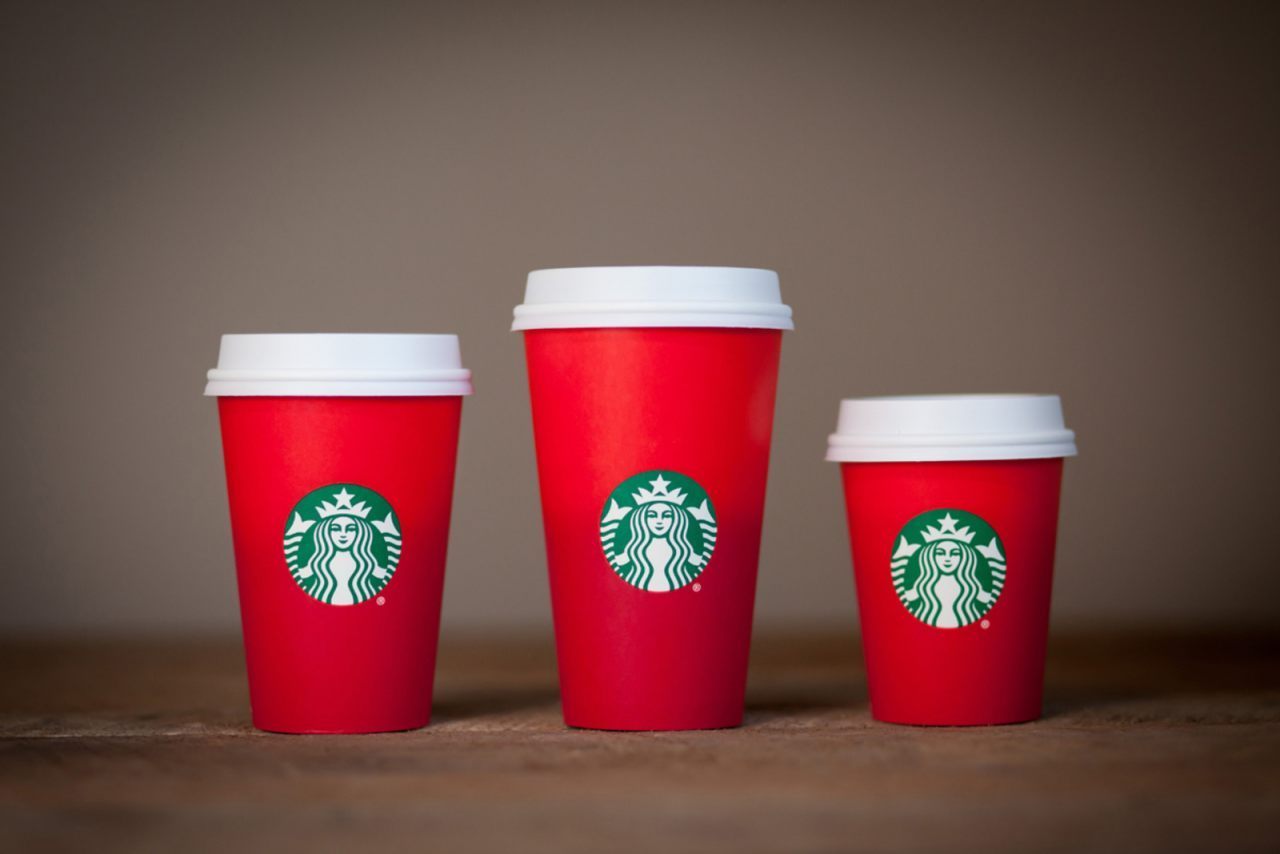 Yep, 'tis the season for the PC police to twist themselves into pretzels (peppermint bark-covered, of course) to try to deny the very root of this holiday season — while simultaneously doing everything possible to capitalize on the revenue windfall the season offers. Liberal hypocrisy and contradictions in full force.
So this year, you may want to skip the Starbucks eggnog latte and instead head over to Chick-fil-a, grab one of their seasonal peppermint milkshakes and raise a toast to the season with a heartfelt and unapologetic "MERRY CHRISTMAS!"
[Note: This article was written by Michelle Jesse, Associate Editor]