Even as yet ANOTHER police officer was gunned down this morning, #BlackLivesMatter supporters continue to spew ugly commentary. This morning, one Houston area #BlackLivesMatter supporter took to Twitter to spread her message of dismay at the outpouring of concern over last Friday's execution-style shooting of Sheriff's Deputy Darren Goforth — and suggest that perhaps he actually may have done something to "deserve it."
As reported by Breitbart:
Houston area #BlackLivesMatter supporter Monica Foy took to Twitter to insist that slain Sheriff's Deputy Darren Goforth deserved to be executed and implied his "creepy perv eyes" were somehow justification for why he was shot from behind and then had a 15-round magazine unloaded into his lifeless body. Foy lives in the Woodlands, just north of Houston, Texas.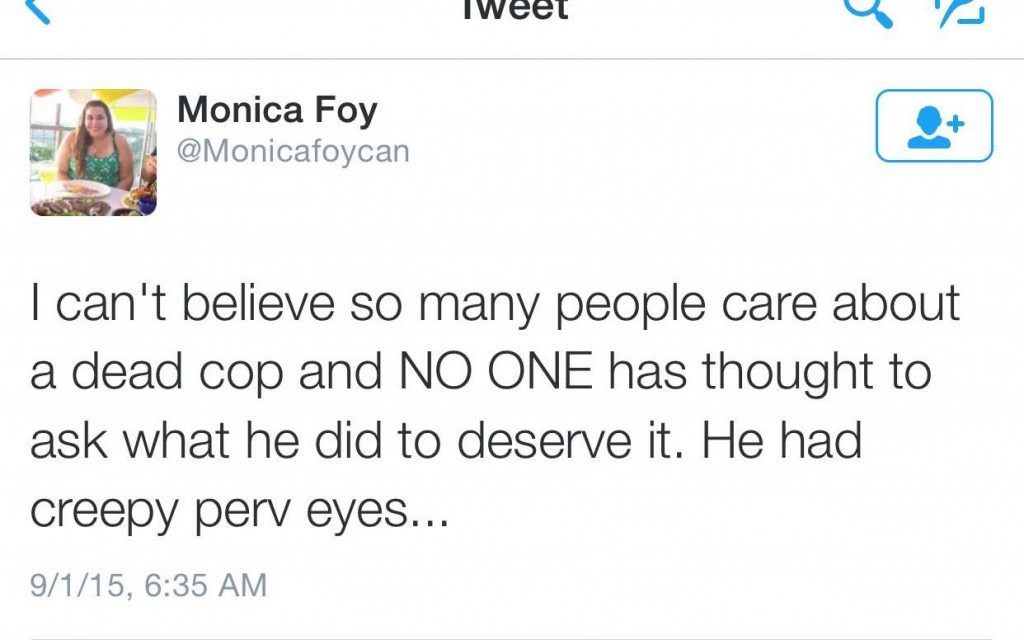 Foy deleted the tweet after numerous individuals began criticizing her on the social media platform. Immediately prior to the offending tweet, Foy tweeted her support for #BlackLivesMatter. Her Facebook account shows that she studies English literature at Sam Houston University.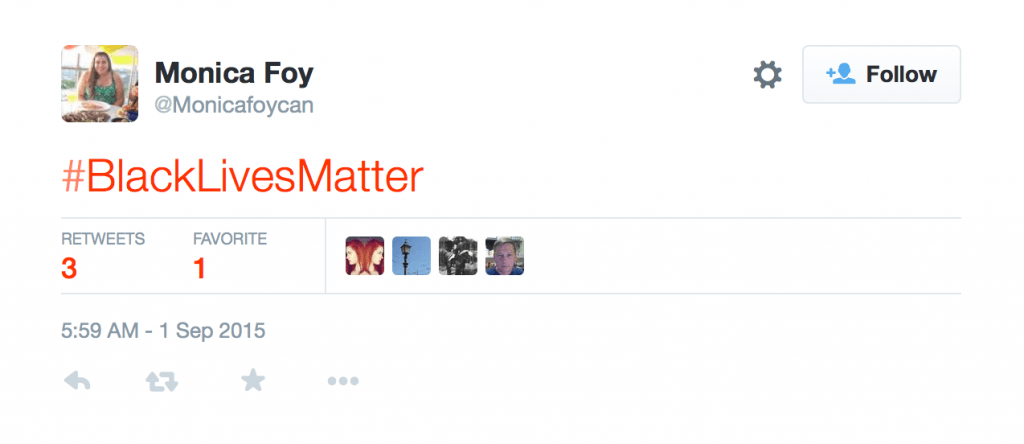 Amazing — amazingly sick — isn't it, that people like Ms. Foy imagine themselves to be the arbiters of who "deserves" to die? As we've written, there is NO justification for murder. Though you might think otherwise with the level of hateful rhetoric that's crossing over into incitation to violence with increasing frequency and volume in recent days and weeks.
It's heartening, at least, to see that Ms. Foy was quickly shamed by the Twitterverse into removing her hateful and idiotic comment.
It's disheartening, however, to recognize her as an example of the type of low-information, social progressive bandwagon rider who put President Obama in the White House not just once, but twice. And who will, no doubt, soldier on mindlessly in support of whatever candidate becomes the Democrat chosen one this time around.